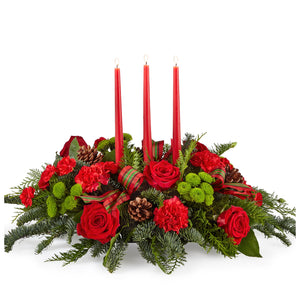 Bring the holiday spirit right to your table with this merry Home for Christmas Centerpiece! Our festive winter floral arrangement will make your loved ones smile with its bright and cheerful colors, perfect for getting everyone into the spirit of the season.

Each arrangement is custom made-to-order using seasonally available materials; as such, your centerpiece's elements may vary slightly from the image shown.
Floral arrangements are available only for local pickup, or for delivery within Prescott and surrounding areas (up to 25 miles).