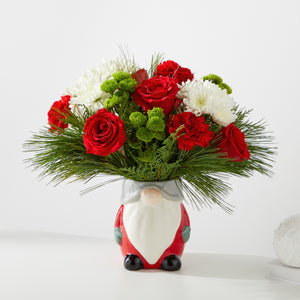 Spruce up your celebrations with the Ho Ho Gnome Bouquet! This festive, winter floral arrangement comes with a jolly ceramic gnome vase filled with lively red carnations and roses, and festive holiday greenery. It's sure to bring joy to any home!
Each arrangement is custom made-to-order using seasonally available materials; as such, your centerpiece's elements may vary slightly from the image shown.
Floral arrangements are available only for local pickup, or for delivery within Prescott and surrounding areas (up to 25 miles).