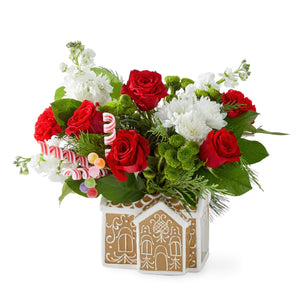 Our Gingerbread Dream Bouquet is sure to bring the festive spirit into your home. A winter-inspired floral arrangement set in a charming ceramic gingerbread house—it doesn't get much sweeter than this; treat yourself to a bit of holiday magic!
Each arrangement is custom made-to-order using seasonally available materials; as such, your centerpiece's elements may vary slightly from the image shown.
Floral arrangements are available only for local pickup, or for delivery within Prescott and surrounding areas (up to 25 miles).