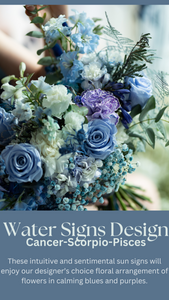 Bring a touch of the celestial to your living space with our custom zodiac-inspired floral arrangements, featuring items specially chosen to evoke the colors and blooms of Earth, Air, Fire, and Water signs, these designer's choice arrangements are sure to bring a sophisticated and natural feel to any space.


Each arrangement is custom made-to-order using seasonally available materials; as such, these elements may vary from the image shown. Florist reserves the right to make adjustments as necessary.

Available for local pickup, or for delivery within Prescott and surrounding areas (up to 25 miles).