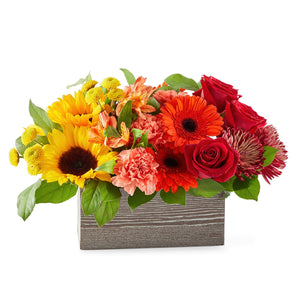 Brighten up your dinner table with this stunning Autumn Harmony Centerpiece. This autumn floral arrangement showcases the best of the season with its vibrant array of colors and glowing candlelit accents. Celebrate the changing of the seasons in style!
Each arrangement is custom made-to-order using seasonally available materials; as such, your centerpiece's elements may vary slightly from the image shown.
Floral arrangements are available only for local pickup, or for delivery within Prescott and surrounding areas (up to 25 miles).