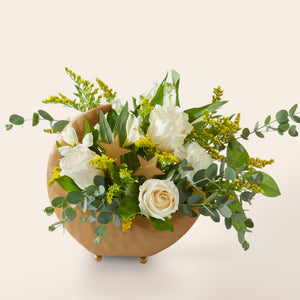 Let the depth of your love shine through with the Over the Moon Bouquet. Delicate roses arranged in a bed of waxflower and eucalyptus create a romantic and enchanting display. This cosmic bouquet is presented in a charming metal moon vase, scattered with stars to evoke a dreamy and magical atmosphere. It's the perfect gift to express your love and affection on special occasions, or just because!
Please note that each arrangement is custom made-to-order using seasonally available materials; as such, the elements in your arrangement/bouquet may vary slightly from the image shown.

Floral arrangements are available only for local pickup, or for delivery within Prescott and surrounding areas (up to 25 miles).