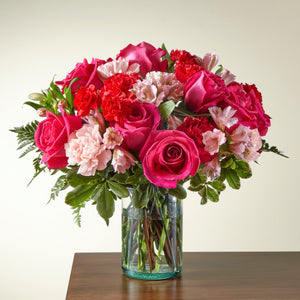 Delight your loved one with the You're Precious Bouquet. Soft pink blooms, including roses, alstroemeria, and carnations, are artfully arranged with lush greenery to create a charming bouquet that will brighten any occasion. Whether it's for a birthday, anniversary, or simply to show your appreciation, this bouquet is sure to bring a smile to their face.
Please note that each arrangement is custom made-to-order using seasonally available materials; as such, the elements in your arrangement/bouquet may vary slightly from the image shown.

Floral arrangements are available only for local pickup, or for delivery within Prescott and surrounding areas (up to 25 miles).