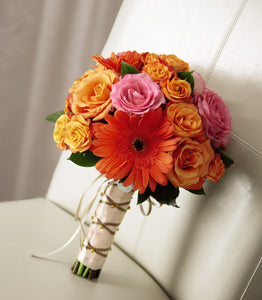 These elegant and stylish hand-held flower bouquets are created according to color pallet using our designer's choice of seasonally fresh flowers, and are the perfect accessory for your 2023 prom.

Choose from classic All White, soft and romantic Pink & White, bold and sunny All Yellow, or playful Yellow & Orange. For a daring and passionate look, opt for All Red or Red & Purple. And if you're looking to make a statement, our All Purple or Assorted colors in pink, red, and purple will definitely do the trick.
We also offer a stunning array of assorted colors in white, yellow, and orange, as well as pink, purple, and blue. With so many options to choose from, you're sure to find the perfect bouquet to match your outfit and style.
Disclaimer: Each arrangement is custom made-to-order using available materials; as such, these elements may vary slightly from the image shown. Florist reserves the right to make substitutions as necessary.