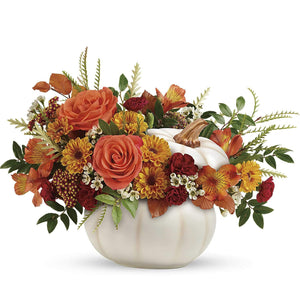 Bursting from an enchanting white ceramic pumpkin, this fabulous fall mix of roses and mums is a magical addition to your autumnal gatherings! This bouquet requires a 3-day lead-time prior to delivery date.

Each arrangement is custom made-to-order using seasonally available materials; as such, your centerpiece's elements may vary slightly from the image shown.
Floral arrangements are available only for local pickup, or for delivery within Prescott and surrounding areas (up to 25 miles).