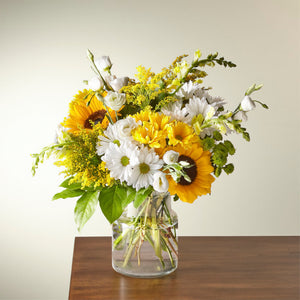 Brighten up someone's day with our Hello Sunshine bouquet. Overflowing with cheerful sunflowers, delicate snapdragons, and charming daisy poms, this stunning arrangement is the perfect way to lift spirits and spread joy. Whether you're looking to celebrate a special occasion or simply want to treat yourself or a loved one, this bouquet is sure to deliver a much-needed dose of sunshine and happiness.
Please note that each arrangement is custom made-to-order using seasonally available materials; as such, the elements in your arrangement/bouquet may vary slightly from the image shown.

Floral arrangements are available only for local pickup, or for delivery within Prescott and surrounding areas (up to 25 miles).